3 p.m. Brooklyn Underground: Theatrical Stories from the Green-Wood Cemetery
September 25, 2011, 3:00pm

–

5:00pm
Sunday, September 25, 2011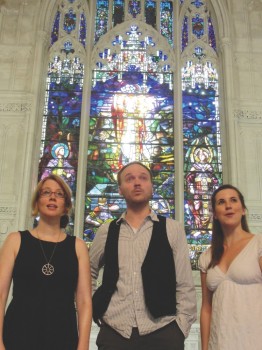 Brooklyn Underground brings to the stage an imaginative and entertaining intermingling of Green-Wood's permanent residents and its modern-day neighbors.
Hear 19th-century stage star Kate Claxton, "the Sarah Bernhardt of America," give a first-hand account of the Brooklyn Theatre Fire of 1885 that killed 278 people. Watch actress Laura Keene perform at Ford's Theatre in Washington, D.C.—on the night Lincoln was assassinated. Be entertained by McDonald Clarke, "the Mad Poet of Broadway," who influenced and was eulogized by Walt Whitman. Eavesdrop on the present-day conversations of Green-Wood's neighbors who have an entirely unique perspective on the historic cemetery.
The Artful Conspirators is a Brooklyn-based theater company which created Brooklyn Underground through research, interviews, audience surveys and theatrical imagination. Directed by David A. Miller.
Evening & Matinée performances:
Fri., Sept. 23, 8:00 p.m. / Fri., Sept. 30, 8:00 p.m.
Sat., Sept. 24, 3:00 p.m. & 8:00 p.m. / Sat., Oct. 1, 3:00 p.m. & 8:00 p.m.
Sun., Sept. 25, 3:00 p.m. / Sun., Oct. 2, 3:00 p.m.
Tickets: $20 in advance and $25 at the door. $20 anytime for members of The Green-Wood Historic Fund. Seating is limited, reservations strongly recommended.
To purchase tickets, call 718-210-3080 or order online using the Ticket Information box below.
If you are using a credit card linked to a non-U.S. address, or if you've typed in a billing address that does not match that of your credit card, you may see an error message when ordering. If so, please call us at 718-210-3080 from Mon-Fri 8am-4pm Eastern Standard Time or email us at info@greenwoodcemetery.org and we will help you complete your order. Thank you.