(Sold Out) 7 p.m. A Night at Niblo's Garden
August 10, 2013, 7:00pm

–

10:00pm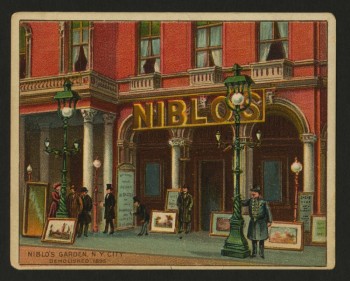 This event is sold out. Please click here for our full events calendar.
Imagine an outdoor pleasure dome, strung with lights, adorned with fountains and featuring the top musicians, dancers and entertainers of the time. That was the scene at Niblo's Garden – the premier entertainment house of 19th-century New York.
Niblo himself was a flamboyant character and he had a habit of turning his Green-Wood plot (purchased well ahead of time) into a pleasure garden of its own – inviting friends, hosting picnics, and even stocking the nearby pond with goldfish.
To celebrate the man and his spirit, join us on this unique night to bring the glory of Niblo's Garden to Green-Wood! In front of his grand mausoleum, see a fabulous one-of-a-kind outdoor show. Bring a blanket, some wine and take in fire jugglers, trapeze artists, opera singers and even Niblo himself – all under paper lanterns and a starry sky.
$30 for members of The Green-Wood Historic Fund/$35 for non-members
In case of severe weather, this event will be rescheduled for Saturday, August 17th.