(Sold Out) 5 p.m. Memorial Day Trolley Mini-Tour
May 27, 2013, 5:00pm

–

6:00pm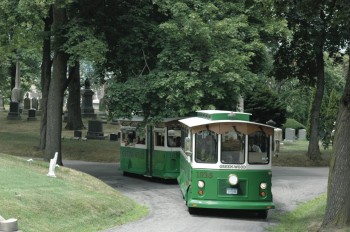 This tour is sold out.
This year Green-Wood celebrates 15 years of bringing Memorial Day music to visitors from all over the area. The concert features the ISO Symphonic Band, founded in 1995 to sponsor talented students throughout New York City and led by ISO's inimitable founder and conductor Brian P. Worsdale. Each year we feature the works of Green-Wood's permanent residents Fred Ebb, Louis Moreau Gottschalk, Leonard Bernstein, and many others.
The concert is a free event, but please click here to register your group online so that we can gauge response.
A trolley "mini-tour" begins right after the concert, featuring highlights of Green-Wood. The tour is $5 for members of The Green-Wood Historic Fund and $10 for non-members. Seating is limited, and reservations are recommended.
This tour is sold out.