2:30 p.m. 14th Annual Memorial Day Concert
May 28, 2012, 2:30pm

–

5:00pm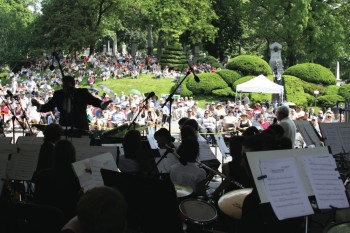 Now in its 14th year, Green-Wood's annual Memorial Day concert has become a true neighborhood favorite. The concert features the ISO Symphonic Band, founded in 1995 to sponsor talented students throughout New York City and led by ISO's inimitable founder and conductor Brian P. Worsdale. Each year we feature the works of Green-Wood's permanent residents Fred Ebb, Louis Moreau Gottschalk, Leonard Bernstein, and many others. Bring a blanket and enjoy this early summer performance. Food and refreshments will be on sale all day.
The concert is a free event, but please register your group using the Ticket Information box below so that we can gauge response. We encourage you to consider making an optional donation with your reservation.
A trolley "mini tour" will be held immediately following the concert. Please click here for more information and tickets.
If you are using a credit card linked to a non-U.S. address, or if you've typed in a billing address that does not match that of your credit card, you may see an error message when ordering. If so, please call us at 718-210-3080 from Mon-Fri 8am-4pm Eastern Standard Time or email us at info@greenwoodcemetery.org and we will help you complete your order. Thank you.