10 a.m. Tu-mulchuous and Tree-mendous Special Event
April 29, 2012, 10:00am

–

12:00pm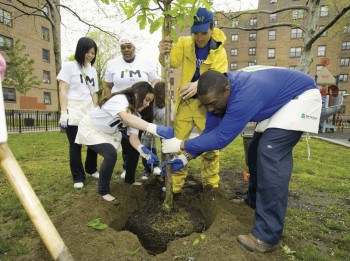 IMPORTANT NOTICE:
All trees for the Tree-Mendous event have been reserved and we are taking no new reservations. However, any trees that have not been picked up by 11:00 a.m. that day (one hour after the tree give-away starts) will be made available to the public shortly after 11. Please note, you must be a resident of New York City to receive a free tree.
Generous quantities of free mulch are available to everyone and anyone, regardless of whether you're picking up a tree or not.
EVENT DESCRIPTION:
Free mulch! Free tree! You bring us a bag, we'll give you the mulch. (Or come early and we'll give you a free Green-Wood tote bag, too!)
Green-Wood salutes—and supports—gardeners from near and far!
Come to Green-Wood to pick up free mulch for your garden (and ours is top-grade!), free advice from our horticulture experts, and even bring home a free tree in collaboration with the New York Restoration Project and MillionTreesNYC. Whether you garden in your backyard or in a community garden, come to Green-Wood for this great afternoon and help us make New York an even greener city. Please note: if you're interested in one of the free trees, you're encouraged to come as early as possible to fill out a reservation form. Trees weigh approximately 30 lbs. Please be sure you're able to bring it home on your own. For free trees, you must be a resident of New York City.
If you are using a credit card linked to a non-U.S. address, or if you've typed in a billing address that does not match that of your credit card, you may see an error message when ordering. If so, please call us at 718-210-3080 from Mon-Fri 8am-4pm Eastern Standard Time or email us at info@greenwoodcemetery.org and we will help you complete your order. Thank you.