1 p.m. The Fearless Mrs. Goodwin – The First Female Detective in America Talk and Tour
October 20, 2013, 1:00pm

–

3:00pm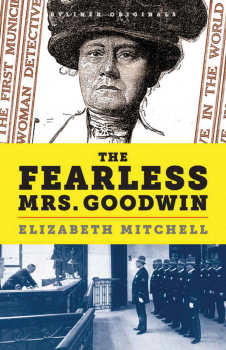 It was the crime of the young century: a brutal bank heist committed in broad daylight on the streets of Manhattan. The police couldn't solve the case—until they turned, reluctantly, to a woman. And so begins the amazing story of Isabella Goodwin – the NYPD's (and the country's!) first female detective.
Join author Elizabeth Mitchell as she tells the fascinating tale of Green-Wood resident Isabella Goodwin, a remarkable woman who broke gender barriers in one of the toughest arenas in the city. After hearing all about Ms. Goodwin and her feats, we'll head out to Green-Wood on the trolley to visit her resting place, plus those of other women worthy of celebration.
This event has two parts with limited seating, the free talk in the Green-Wood Chapel and the (now sold out) guided trolley tour. Talk tickets are still available below.
Not a Member?
Get a free ticket with a membership at left and purchase additional Member Discount Tickets if desired. Click here for all of our membership levels and information.
Already a Member?
Click the "Enter promotional code here (members, use your ID#)" link in the bottom right corner of the ticket box and enter your ID number to apply your ticket discount. Please note that the Senior, Individual and Student membership levels are limited to only one Member Ticket per event (for additional tickets, please purchase at the regular price).
Questions?
Don't know your Member ID number? Not sure which ticket or membership type to order? Call 718-210-3080 or email contactus@green-wood.com with any questions.