1 p.m. Starchitects of Yore Trolley tour
July 13, 2013, 1:00pm

–

3:00pm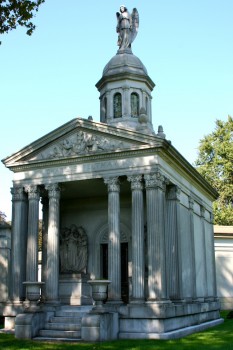 Good architecture exalts the spirit, so it's no surprise that many architects, builders and designers have sought to make Green-Wood, whose purpose is exaltation of the spirit, their final resting place.
James Renwick (St. Patrick's Cathedral), James Bogardus and Daniel Badger (cast-iron pioneers), Montrose Morris and George Chappell (best of "Brownstone" Brooklyn architecture), John McComb, Jr. (New York City Hall), Jacob Wrey Mould (Central Park features), Grosvenor Atterbury (Forest Hills Gardens), John Kellum (Tweed Courthouse), Gamaliel King (Brooklyn Borough Hall) and more – they all call Green-Wood home.
Expert guide Ruth Edebohls will lead you through landscape architect David Bates Douglass' incomparable work of art (and also visit him), stopping by samples of great architecture by luminaries like Richard Upjohn & Son, Warren & Wetmore and Stanford White.
$15 for members of the Green-Wood Historic Fund/$20 for nonmembers
Not a Member?
Get a free ticket with a membership at left and purchase additional Member Discount Tickets if desired. Click here for all of our membership levels and information.
Already a Member?
Click the "Enter promotional code here (members, use your ID#)" link in the bottom right corner of the ticket box and enter your ID number to apply your ticket discount. Please note that the Senior, Individual and Student membership levels are limited to only one Member Ticket per event (for additional tickets, please purchase at the regular price).
Questions?
Don't know your Member ID number? Not sure which ticket or membership type to order? Call 718-210-3080 or email contactus@green-wood.com with any questions.