1 p.m. Images of America: Green-Wood Cemetery Trolley Tour
October 9, 2011, 1:00pm

–

3:00pm

$10 – $20
Sunday, October 9, 2011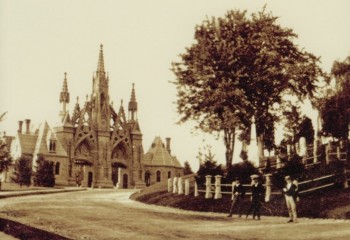 Join Alexandra Kathryn Mosca, author of Images of America: Green-Wood Cemetery (click here to purchase the book), in a trolley tour honoring Green-Wood's "Who's Who" of 19th- and early 20th-century New York. Visit the monuments and learn about the fascinating lives of John Matthews ("The Soda Fountain King"), De Witt Clinton (New York governor and main proponent of construction of the Erie Canal), Charles Feltman (inventor of the hot dog), Henry Bergh (founder of the ASPCA) and more. Mosca is a funeral director and regular contributor to American Cemetery and American Funeral Director magazines. A question and answer session and author book signing in Green-Wood's Historic Chapel follow the tour.
Trolley tour: $10 for members of The Green-Wood Historic Fund / $20 for non-members. Seating is limited. Reservations strongly recommended.
To purchase tickets, call 718-210-3080 or order online using the Ticket Information box below.
If you are using a credit card linked to a non-U.S. address, or if you've typed in a billing address that does not match that of your credit card, you may see an error message when ordering. If so, please call us at 718-210-3080 from Mon-Fri 8am-4pm Eastern Standard Time or email us at info@greenwoodcemetery.org and we will help you complete your order. Thank you.
Not a Member?
Get a free ticket with a membership at left and purchase additional Member Discount Tickets if desired. Click here for all of our membership levels and information.
Already a Member?
Click the "Enter Discount Code" link at left and enter your ID number to apply your ticket discount. You will only be able to purchase the number of discounted tickets included in your membership level. If you want additional tickets, please purchase at the regular price.
Questions?
Don't know your Member ID number? Not sure which ticket or membership type to order? Call 718-210-3080 or email contactus@green-wood.com with any questions.