1 p.m. 'Clara and Mr. Tiffany' with Author Susan Vreeland Talk &Tour
March 24, 2012, 1:00pm

–

3:00pm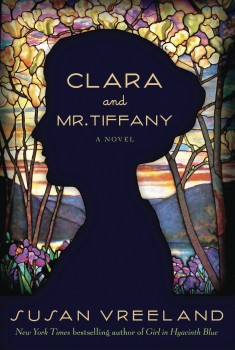 "Not just for art lovers; read it if you enjoy love, human drama, and American cultural history." — Library Journal

The latest novel of bestselling author Susan Vreeland was inspired by the story of the real artist behind the iconic lamps of Green-Wood resident Louis Comfort Tiffany. Hundreds of personal letters brought to the attention of art historians in 2005 led to the electrifying discovery that it was a woman, Clara Driscoll, who invented and designed world-famous stained-glass lamps. Set against the Gilded Age world of formal balls and opera as well as the immigrant poverty of the Lower East Side, Vreeland's novel imagines the life of the artistic and progressive Driscoll.
This event has two parts, with separate tickets for each part:
A free book talk by Susan Vreeland in the historic Green-Wood chapel, ending with a book signing (just released in paperback).

A trolley tour immediately following the talk, led by Green-Wood's historian Jeff Richman, to the graves of the Tiffany family, plus many contemporary designers and leading figures of the day. Tickets are $15 for members of the Green-Wood Historic Fund and $20 for non-members.
Seating is limited for both the talk and the trolley tour, and reservations are recommended.
To purchase tickets, call 718-210-3080 or order online using the Ticket Information box below — click to Order Now or Enter Promotional Code (Member ID#) and you will be redirected to our Eventbrite ordering page. Please include both free talk tickets and trolley tour tickets in your order if you would like to attend both parts of the event.
If you are using a credit card linked to a non-U.S. address, or if you've typed in a billing address that does not match that of your credit card, you may see an error message when ordering. If so, please call us at 718-210-3080 from Mon-Fri 8am-4pm Eastern Standard Time or email us at info@greenwoodcemetery.org and we will help you complete your order. Thank you.
Not a Member?
Get a free ticket with a membership at left and purchase additional Member Discount Tickets if desired. Click here for all of our membership levels and information.
Already a Member?
Click the "Enter promotional code here (members, use your ID#)" link in the bottom right corner of the ticket box and enter your ID number to apply your ticket discount. Please note that the Senior, Individual and Student membership levels are limited to only one Member Ticket per event (for additional tickets, please purchase at the regular price).
Questions?
Don't know your Member ID number? Not sure which ticket or membership type to order? Call 718-210-3080 or email contactus@green-wood.com with any questions.