1 p.m. After the Fire Talk and Tour
November 22, 2014, 1:00pm

–

3:00pm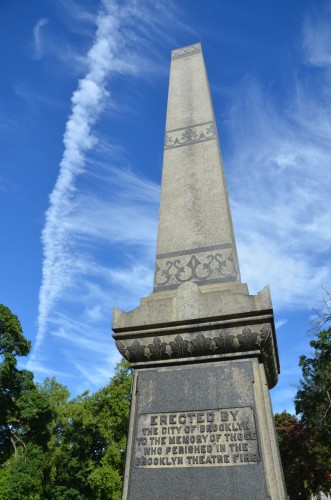 Many people know the story of the Brooklyn Theater Fire – a conflagration that ripped through a packed theater in 1876 and left many hundreds dead in its wake. The loss of life was so great that a mass grave was donated in Green-Wood, and a monument erected at the site to commemorate the tragedy. The fire was national news and clearly shocked the boroughs, but what happened in Brooklyn after the fire? Tragedies like this inevitably affect the life, culture and policies of a city. At this talk and tour in Green-Wood's historic chapel, historian Joshua Britton will examine tragedies like the Brooklyn Theater Fire and how their influence shaped the growing metropolis of Brooklyn. After the talk, a trolley tour will visit related sites in Green-Wood.
This event appears as part of Brooklyn's On Fire!: a partner series with Green-Wood and Brooklyn Historical Society dedicated to one of history's hottest subjects – fire and firefighting. Brooklyn's history of conflagrations is dynamic, transformative, and plenty surprising. In four parts, we'll rove the borough to examine the heroes, the history, and even the chefs.
This event has two parts, with separate tickets for each part:
The free talk in the historic Green-Wood chapel.
A guided trolley tour immediately following the talk. Tickets are $15 for members of the Green-Wood Historic Fund and BHS and $20 for non-members.
Please include both free talk tickets and trolley tour tickets in your order if you would like to attend both parts of the event. Seating is limited for both the talk and the trolley tour, and reservations are recommended.