GREEN-WOOD CEMETERY LAUNCHES SOCIAL MEDIA CAMPAIGN CALLING FOR AN END TO GUN VIOLENCE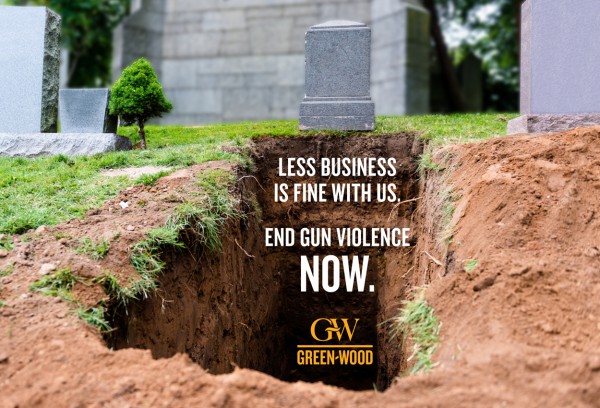 (BROOKLYN, NY – JUNE 22, 2016) Green-Wood Cemetery today launched a social media PSA campaign that puts a spotlight on the scourge of gun violence and calls for an end to the killing.
With a newly dug, empty grave and unmarked tombstone as a backdrop, the campaign's message is simple: "Less business is fine with us. End gun violence NOW."
Richard J. Moylan, President of Green-Wood, said, "Death is inevitable. But death at the end of the barrel of a gun is preventable. Green-Wood is proud to join with Mayor de Blasio in his call for every New Yorker and American to be able to live in a nation free from gun violence. As the PSA says, less business is fine with us."
Green-Wood's anti-gun violence campaign can be seen on Green-Wood's homepage, Facebook (The Green-Wood Cemetery), Twitter (@GreenWoodHF), and Instagram (@historicgreenwood).
The PSA was designed by Archigrafika.
For more information about Green-Wood, go to www.green-wood.com.
# # #