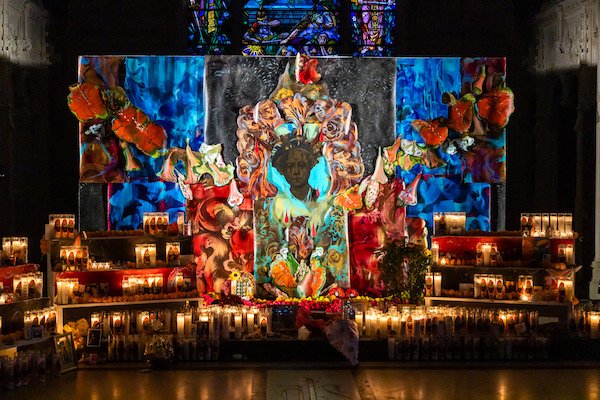 CORONA ALTAR
Scherezade García
October 23–November 1, 2020
El Dia de los Muertos (The Day of the Dead) is a three-day holiday (October 31st–November 2nd) that honors the departed through ofrendas (offerings) arranged on altars, music, dancing, and gatherings with family and friends. In 2020, Green-Wood commissioned artist Scherezade García to create a large-scale community altar in Green-Wood's Historic Chapel. Thousands visited the altar, lighting candles in honor of the departed as well as leaving behind personal offerings, including flowers, photographs, and notes, among other objects.
García's design for the altar was influenced by papel picado, colorful decorative punched paper from Mexico. The centerpiece was a weeping, cinnamon-colored Statue of Liberty. By mixing all the colors in her palette, the artist achieved a brown hue that embodies the ideals of diversity and inclusiveness. Her rendition of the Statue of Liberty, an iconic symbol of New York City, evoked the multitudes of immigrants that have found a home here, including large Latin and Caribbean American communities. García dedicated the altar to all the New Yorkers who fell victim to coronavirus. It was appropriately titled The Corona Altar—a reference to both the coronavirus pandemic and the crown worn by the Statue of Liberty (corona is the Spanish word for crown).
The altar was featured in The Art Newspaper, The City, NY1, and News12, among other outlets.