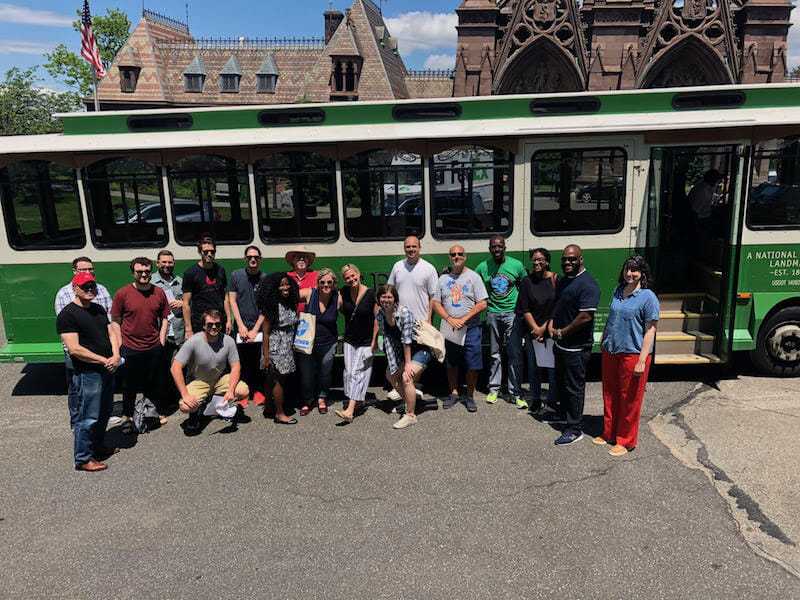 This page will be updated soon with new links and information.
On Chancellor's Day, June 4th , Green-Wood is running three of our trolley programs just for teachers. Experience unique aspects of Green-Wood history on one, two, or three tours; and enjoy a potluck, picnic lunch on our grounds as well as some cookies provided by us! Participants will come away with a full picture of how Green-Wood engages students in historical thinking and primary source analysis, as well as deeper content knowledge in local history!
Date
Thursday, June 4th, 2020
Tickets
$25 per person, per tour
Group discount: Tickets are $20 per person, per tour when you purchase five tickets or more for a single tour.
Schedule of Tours
9:00 am to 11:00 am
Innovators and Inventors from the Industrial Revolution to the Progressive Era
Explore the stories of influential, visionary, and even corrupt change-makers buried at Green-Wood to determine how they forged a new American society—and who thrived, survived, or suffered in it.
11:15 am to 1:15 pm
Gone, Not Forgotten: Black New Yorkers Who Changed America
Visit the gravesites of luminaries like James Weldon Johnson; unsung leaders like abolitionist Elizabeth Gloucester; and the nearly forgotten, like the over 1300 people interred in the Freedom Lots. Consider how 18th, 19th, and 20th century Black New Yorkers faced the challenges of their eras and fought to create a better America. Reflect on how their lives and legacies should be remembered today.
1:30 pm to 3:30 pm
Immigrants in NYC: Eighteenth Century to Today
Explore little-known stories of New York immigrant communities such as Little Syria; discover the struggles, successes, and stereotypes of Italian, Chinese, German, and Irish Americans; and investigate New York's immigrant cultures today through cemetery demography.
Location
Green-Wood has many entrances that are far away from each other and not always open. The correct entrance for this program is our Main Entrance located at 500 25th St., Brooklyn, NY 11232. The closest subway station is the R at 25th St. Enter through the Cemetery's main gates at 5th Avenue and 25th St. and head up the hill through the Gothic Arch. Trolley tours will depart and drop off ON TIME from a point inside the Archway near our administrative building. Parking is available within the cemetery!
Picnic Lunch and Complimentary Cookies
Please feel free to bring a picnic blanket and your own lunch to eat on Green-Wood's grounds (assuming the weather cooperates)! Green-Wood will provide cookies near the lunch area in our meadow throughout the day (8:30am to 2:00 pm). NOTE: We do not have food storage on-site, so your lunch must be kept on your person in sealed containers while you are on your trolley tour.
Other Details
Please arrive 15 minutes prior to your first tour.
Bathrooms are available near Green-Wood's main entrance but are not accessible during the tours.
Our trolley is fully ADA compliant and accessible. Please email education@green-wood.com to arrange for mobility aids on the trolley.
Please note that portions of the tours take place outside the trolley, however attendees may stay seated in the trolley if they wish.
Green-Wood's policies and other important tips for your visit will be emailed to you when you book a tour. Please read them carefully!