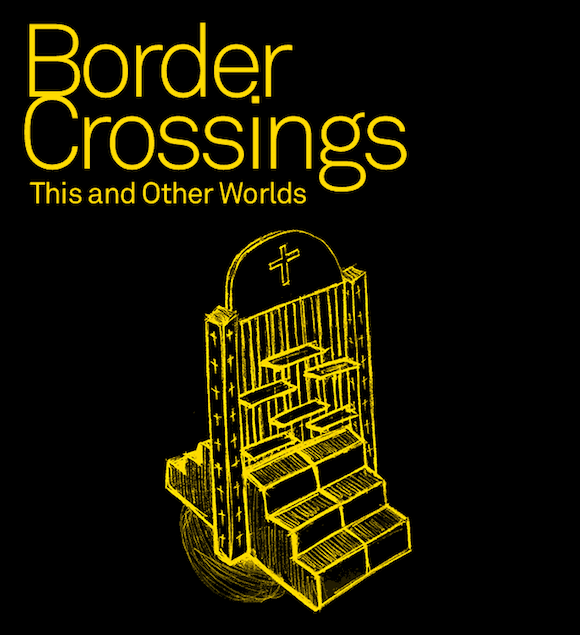 Border Crossings: This and Other Worlds (November 2-4), a three-day series of programs, performances, and installations that takes inspiration from global practices of honoring those who are no longer with us-e.g., El Dia de Los Muertos (the Mexican "Day of the Dead"); the Buddhist and Taoist "Ghost Festival" of Zhong Yuan Jie; the Christian holiday of All Souls Day; and Qingming or "Tomb Sweeping Day," a traditional Chinese celebration. The centerpiece of Border Crossings is an altar designed for the community by artist Adrian Viajero Roman, a long time Sunset Park resident. His inspiration is the El Dia de Los Muertos altars created to honor the dead throughout Mexico and the Mexican diaspora. With many free events, Border Crossings is a weekend of celebration, reflection, and commemoration.
Co-presented by Bard Graduate Center and The Green-Wood Cemetery, Border Crossings is part of a series of public programs designed to complement our current exhibition Agents of Faith: Votive Objects in Time and Place. We welcome participants of all backgrounds and religious beliefs.
About the Altar
Adrian Viajero Roman's altar commemorates loved ones who have crossed the border from life to death. In particular, his Puerto Rican compatriots who died during Hurricane Maria in 2017 and those who lost their lives while crossing a border between Mexico and the United States.
Add something of your own and be a part of this work of art. All visitors are invited to bring personal offerings to the altar. Flowers, photographs, notes, and/or other objects are welcome. (Please note that offerings left at the altar cannot be returned.)
Schedule
The programs listed below will take place in and around Green-Wood's main entrance at 25th Street and 5th Avenue. Please ask security at the Gothic Arch for where to go.
Friday, November 2
7:00 PM – 8:30 PM
Making an Exit: From the Magnificent to the Macabre
Author and journalist Sarah Murray explores the astonishing variety and beauty of how humans remember and celebrate the dead. She will share stories, photos, and insights from her book Making an Exit: From the Magnificent to the Macabre-How We Dignify the Dead, which documents her journeys across the globe on a very personal quest: seeking inspiration for her own eventual send-off. $15 / $10 for members of Green-Wood with RSVP.
8:00 PM
Blessing the Altar with Indigenous Music and Songs of Central America: Cetilizti Nauchampa Quetzacoalt In Ixachiltlan
A ceremonial performance and traditional blessing of the altar performed by musicians and dancers who carry on the ancient traditions of the native peoples of Central America. The group, Cetilizti Nauchampa Quetzacoalt In Ixachiltlan, was formed in 1999 and has performed at museums, universities, and theaters throughout New York City. Free with RSVP.
✱✱✱
Saturday, November 3
3:30-5:00PM
Cremation: History and Modern Process
Amy Cunningham, death educator, leads this presentation of cremation history and its impact on present-day and future funerals. This engaging and sometimes even light-hearted exploration will also touch on how to choose an end-of-life mode of disposition that expresses your own beliefs and values. Afterward, you will have the opportunity to visit the crematory with Gema LaBoccetta, Green-Wood's Crematory Manager. Free with RSVP.
5:00-6:30 PM
Crossing Borders: Displacement and Transcendence
Join us for insights, advice, and hope from some of the nation's most distinguished and proactive advocates for immigrants and refugees:
Dr. Robin Reineke, anthropologist and founder of the Colibri Center, a family advocacy organization working to end migrant death and related suffering on the US-Mexico border.
Becca Heller, a 2018 MacArthur Genius Award recipient, human rights lawyer and co-founder of the International Refugee Assistance Project which has helped over 200,000 refugees and displaced persons find their way to safety.
Simon Robins, a humanitarian practitioner and researcher who has consulted for the International Committee of the Red Cross and the International Centre for Transitional Justice. Robins has extensive experience living in and working with post-conflict societies, particularly East Timor-Leste, Uganda and Nepal.
This program is organized in collaboration with The Colibri Center for Human Rights in Tucson. Free with RSVP.
7:00-7:30 PM
Artist Talk
Join altar creator Adrián Viajero Román for a brief conversation about the altar and his work as both an artist and activist. Free with RSVP.
✱✱✱
Sunday, November 4
2:30-4:00 PM
On Borders, Human Lives and Poetry
Treat yourself to the musical language and expressive beauty of poets who write on the themes of border crossings and what it means to be human.
Vanessa Angélica Villarreal was born in the Rio Grande Valley borderlands to (formerly) undocumented Mexican immigrants. Her work has appeared in The Boston Review, The Academy of American Poets, and PBS News Hour.
Raquel Salas Rivera is the 2018-19 Poet Laureate of Philadelphia. Rivera, 32, is a networker, bridging people of different geographies, languages and races. As a person identifying as queer and non-binary, Rivera bridges sexual and gender identifications, as well as social and economic classes.
Roberto Montes is the author of "I Don't Know, Do You?" which NPR named one of the Best Books of the Year in 2014. His poetry has appeared in The Lambda Literary Spotlight, Guernica, and The Pen America Poetry Series.
3:00-5:00 PM
Make Your Own Nicho
Drop in and make your own nicho, or portable altar shrine, with visual artist Mia Román. Found throughout Central and South America, these small shadow boxes are made to honor a saint or departed loved one. All materials will be provided. Free. Drop-ins welcome with RSVP.
5:00-6:30 PM
Closing Celebration
The Ase music group's performance will mark the closing of the altar, followed by an artist talk with its creator, Adrián Viajero Román. Refreshments will be provided. Free with RSVP.