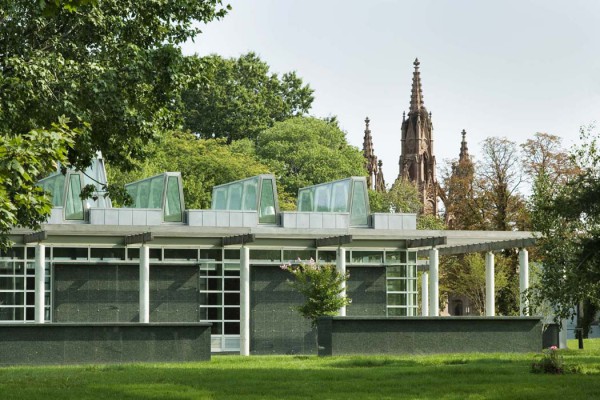 Green-Wood Cemetery is internationally recognized as one of the most beautiful and historic cemeteries in the world. Established in 1838, it is one of only a handful of America's cemetery's that have been designated a National Historic Landmark and is universally regarded as one of the most scenic cemeteries in the world, alongside the ranks of Pere-Lachaise in Paris, Campo Santo in Pisa and the Mount of Olives in Jerusalem. As the permanent residence of over 570,000 individuals (including luminaries such as Leonard Bernstein, William "Boss" Tweed, Jean-Michel Basquiat, Louis Comfort Tiffany, Samuel Morse, Susan McKinney Steward, and many others), Green-Wood boasts magnificent grounds, grand architecture and world-class statuary. Indeed, Green-Wood's popularity helped inspire the creation of the country's public parks, including New York City's Central and Prospect Parks.
At Green-Wood, we know the importance of a truly permanent place of remembrance and commemoration. Sadly, it is not always something that families think about at the time of death of a loved one.
For families who choose cremation, an urn containing the cremated body is often stored on a closet shelf, in a basement or an attic, and sometimes forgotten completely. In contrast, we here at Green-Wood experience, every day, the comfort and emotional significance that a permanent memorial can offer. For family members in this generation and the next, a memorial place provides a permanent place to visit and remember. For future family members, a memorial offers family history and commemoration, and perhaps most importantly, archival records of the date and cause of death, and other information on the burial. Green-Wood has been making these records available to families since 1838 and is committed to offering them for many more hundreds of years.
There are many memorial options for families who choose cremation for their loved ones. Green-Wood offers exceptionally beautiful columbaria (places for the placement of an urn containing a cremated body) throughout the cemetery. Each has a wide selection of glass and marble niches as well as a wide selection of urns. A lovely urn garden is also available.