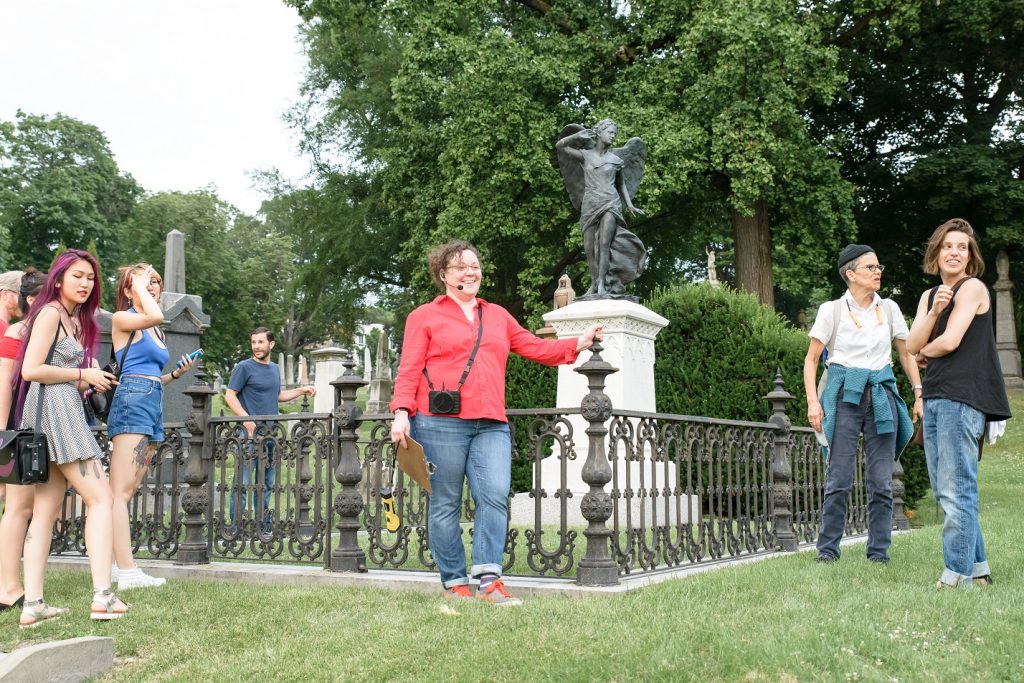 Green-Wood is the ideal place for your group's next outing. With grand, sweeping views of Manhattan, beautifully designed landscapes, and 175 years of American history, Green-Wood is an enlightening and enjoyable day trip for any group.
Green-Wood welcomes all adult, university, tourism, community, and personal groups to book either a private or outside tour. Please see the additional information and reservation form below. (If you are interested in school programs for kids, click here.)
We also now offer gift certificates for our private walking tours!
HEALTH AND SAFETY PROTOCOLS
Green-Wood prioritizes visitor health and safety. Whether you are here for a stroll or to enjoy an outdoor performance, the protocols below are intended to ensure the well being of all those on our grounds.
Face coverings are mandatory: Everyone over age 2 is required to wear a face covering.
Stay 6 feet Apart: Visitors must maintain a 6-foot distance from anyone not in their group, including Cemetery staff and Green-Wood Ambassadors.
Regular Cleaning and Sanitizing: Public restrooms are cleaned and sanitized throughout the day.
Travel Safely: Green-Wood recommends following all safety precautions while traveling to and from the Cemetery, whether by foot, mass transit, or driving. If taking mass transit, please check the MTA's guidelines.
Feeling Sick? Stay home if you are feeling sick. For more information about COVID-19 symptoms, please check the CDC website.
Green-Wood reserves the right to deny entry to public programs or private tours to any visitor who refuses to comply with the guidelines listed here. Our safety protocols are based on current City and State mandates and recommended guidelines. As with any public outdoor setting, we cannot guarantee that you will not be exposed to COVID-19. By visiting Green-Wood, you voluntarily assume such risks.
PayMENT
Once your tour has been confirmed, you will receive an invoice for payment via email. You can pay online or by check.
Please make your check payable to The Green-Wood Historic Fund and mail it here with a copy of your Tour/Visit Confirmation letter:
Green-Wood Historic Fund
Attn: Derya Mergin
500 25th Street
Brooklyn, NY 11232
Private Walking Tours
A Green-Wood guide will lead your group by foot on a tour that tells the story of this magnificent landmark and the fascinating people interred here. Private walking tours last approximately 90 minutes and accommodate 25 people maximum. They are available on weekdays (Monday-Friday) for $300 and weekends (Saturday-Sunday) for $400.
Please note: Due to the coronavirus pandemic, trolley tours are suspended until further notice.
Reservations must be made using the form below no less than two weeks in advance of the requested visit date. We recommend having an alternate date in case your preferred date is unavailable.
INDEPENDENT TOUR GROUPS/OPERATORS
Leaders of organized tours not affiliated with Green-Wood are welcome to bring their group through the grounds, provided they register with Green-Wood in advance. There is a $5 fee for each group member, payable by credit card, which assists The Green-Wood Historic Fund in its ongoing preservation and restoration efforts.
Green-Wood reviews each request, based on the guide's qualifications and references. For tours that focus on Green-Wood's wildlife, including birding, we take extra precautions because, sadly, some guides employ unscrupulous and harmful practices. Our objective is to ensure the qualifications of each guide and have confidence they will do no harm to Green-Wood's wildlife and its environment.
Appointments are required for all organized outside tours, regardless of size, and must be made no less than one week in advance. You need not schedule an appointment to explore the grounds yourself or with a small group of friends and family.
Please fill out the form below to request an appointment. A separate form must be submitted for each tour, and we will do our best to accommodate your request(s).
Reservation Form
Due to high volume, your visit is not confirmed until you have received a confirmation email. Please email contactus@green-wood.com with questions.