1 p.m. USS Monitor to the Dreamland Bell: Unscrambling the Story of James Gregory
March 9, 2013, 1:00pm

–

3:00pm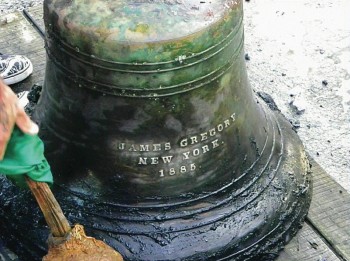 Civil War Ships, a Coney Island pier, vanished Lower East Side streets and Green-Wood – they all converge in this talk by architect David Grider. David's unflagging curiosity led him on a long research journey through the brass foundry of James Gregory's surprising eminence in New York history.
The rapid-prototyping neighborhoods of foundries & ship yards may have vanished long ago, but their artful pieces still pop up in SoHo facades, Virginian steeples and, surprisingly, the bottom of the Atlantic Ocean. He'll detail his findings and the hidden threads one uncovers in research. It's perfect for urban history enthusiasts or anyone who's ever dove head first into the research rabbit hole.
After the talk, hop on our trolley for a tour of related Green-Wood sites, like James Gregory himself, Brooklyn Bridge caisson maker Eckford Webb, and cast iron great James Bogardus.
This event has two parts, with separate tickets for each part:
The free talk in the historic Green-Wood chapel.
A guided trolley tour immediately following the talk. Tickets are $10 for members of the Green-Wood Historic Fund and $15 for non-members.
Seating is limited for both the talk and the trolley tour, and reservations are recommended.
Not a Member?
Get a free ticket with a membership at left and purchase additional Member Discount Tickets if desired. Click here for all of our membership levels and information.
Already a Member?
Click the "Enter promotional code here (members, use your ID#)" link in the bottom right corner of the ticket box and enter your ID number to apply your ticket discount. Please note that the Senior, Individual and Student membership levels are limited to only one Member Ticket per event (for additional tickets, please purchase at the regular price).
Questions?
Don't know your Member ID number? Not sure which ticket or membership type to order? Call 718-210-3080 or email contactus@green-wood.com with any questions.