Noon: Unique Sneak Peek Inside Green-Wood's Most Famous Mausoleums
October 6, 2012, 12:00pm

–

4:00pm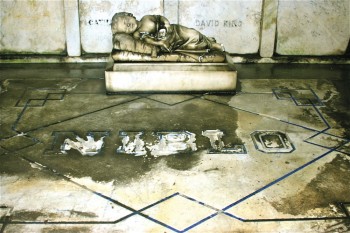 As part of the 2012 openhousenewyork weekend, Green-Wood will open many of its most famous and elaborate mausoleums for public perusal. This special look into Green-Wood's architecture includes the family mausoleums of piano maker Henry Englehard Steinway and Stephen Whitney, one of the wealthiest men of the 19th century, as well as the Catacombs and other unique locations usually closed to visitors. Guides and actors in period costume will offer a glimpse into the lives of the people who now rest in these opulent structures.
Access to the cemetery grounds will include maps of the locations as well as "hop on, hop off" service on Green-Wood's trolley between 12:00 noon to 4:00 pm on both days.
Reservations are encouraged but are not necessary. Fifty FREE tickets are offered on a first-come, first-served basis through the openhousenewyork website. Visit www.ohny.org for more details. Paid tickets are $15 for Green-Wood Historic Fund members and $20 for non-members.
To purchase tickets, call 718-210-3080 or order online using the Ticket Information box below. Select your date, ticket quantity, and click to Order Now or Enter Promotional Code (Member ID#) and you will be redirected to our Eventbrite ordering page.
If you are using a credit card linked to a non-U.S. address, or if you've typed in a billing address that does not match that of your credit card, you may see an error message when ordering. If so, please call us at 718-210-3080 from Mon-Fri 8am-4pm Eastern Standard Time or email us at info@greenwoodcemetery.org and we will help you complete your order. Thank you.
Not a Member?
Get a free ticket with a membership at left and purchase additional Member Discount Tickets if desired. Click here for all of our membership levels and information.
Already a Member?
Click the "Enter promotional code here (G-W Members: Use your Member ID)" link in the bottom right corner of the ticket box and enter your ID number to apply your ticket discount. Please note that the Senior, Individual and Student membership levels are limited to only one Member Ticket per event (for additional tickets, please purchase at the regular price).
Questions?
Don't know your Member ID number? Not sure which ticket or membership type to order? Call 718-210-3080 or email contactus@green-wood.com with any questions.