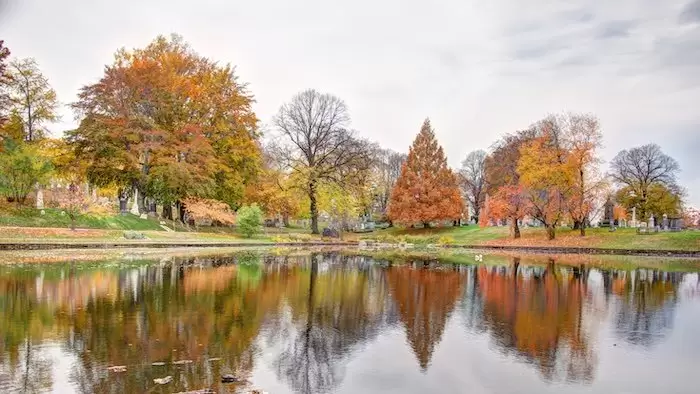 Bring a Green-Wood educator into your virtual classroom for a synchronous lesson that will fascinate your students!
Program Logistics
Duration: Programs are 60 minutes (but can be adjusted for shorter class periods)
Group Size: Each program can accommodate up to 35 students plus educators. Family members and at-home caregivers may participate as well through their students' accounts.
Schedule: Programs are offered from 9:30-10:30am, 10:45-11:45am and 1-2pm. Custom start and end times can be arranged, if needed Sign up
Digital Platforms: Programs are offered via Zoom, Microsoft Teams, or Google Meet. If you use another platform, you will need to invite our educator to your session and share a link with them.
Programs Overview: All programs feature an experienced Green-Wood educator leading your class in a PowerPoint study of images of Green-Wood monuments and additional multimedia sources to learn about the lives of notable Green-Wood residents. Programs are also designed to build students' skills in analyzing different kinds of primary sources. We know the key in digital learning is engagement: our programs include multiple points for student response, brief activities, and interaction. Teachers report higher than average participation in our virtual programs than typical virtual school-based lessons.
Are you interested in a custom virtual experience? Please contact education@green-wood.com to plan a program tailored to your specific needs.
Programs
Green-Wood's Fascinating Figures of the American Revolution
How did New Yorkers help create the United States of America? Students will assess the roles of several revolutionary-era people buried at Green-Wood through source inquiry and monument study. Call 718-210-3060 to book.
Green-Wood's Battle Hill and the Battle of Brooklyn
How should the Battle of Brooklyn, a loss for the Continental Army, be remembered? Virtually march up Green-Wood's Battle Hill, the highest natural point in Brooklyn and the site of part of the 1776 battle. When you reach the top, study the monument Minerva and the Altar to Liberty.
Green-Wood's Fascinating Figures of the Civil War
Virtually visit the graves of important participants in Civil War history, all with unique perspectives: choose from soldiers, a nurse, a drummer boy, and more. See a different war through their eyes. Call 718-210-3060 to book.
Program Series: Green-Wood and the American Civil War
Women and the Civil War at Green-Wood

Discover the important roles white and Black women played in the Civil War through the lives of Green-Wood's permanent residents.
African Americans and the Civil War at Green-Wood

Discover how Black men and women impacted and were impacted by this turbulent era.
Soldiers of the Civil War at Green-Wood

Meet a few of the 5,000+ Civil War soldiers who are buried at Green-Wood. Compare their experiences and see the war from their perspectives.
Remembering the Civil War at Green-Wood: The Soldier's Monument

Deeply investigate one of the city's earliest monuments to the Civil War. Through close looking and studying supplemental materials, students will discover what this monument does and does not memorialize, and what that can tell us about New York and the Civil War.
INNOVATORS AND INVENTORS OF GREEN-WOOD
As New-York's first premier cemetery, Green-Wood is the permanent home to thousands of people who changed the world. Virtually meet some of these individuals and discover their impact on American politics, technology, and culture in the nineteenth and early twentieth centuries. Call 718-210-3060 to book.
Immigrant Pioneers of Green-Wood
Take a virtual visit to the monuments of immigrants who made a mark on the world beyond Brooklyn. Learn about their struggles and triumphs and how their stories connect to broader themes in immigration history of the nineteenth and twentieth centuries.
Social Activists of Green-Wood
Green-Wood's permanent residents affected their societies (and ours) in both large and small ways. Meet some of them and see what it took for them to change hearts and minds.
Black Pioneers of Green-Wood
Discover the lives and work of Black changemakers of the nineteenth and twentieth centuries who are buried at Green-Wood.
Black Artists of Green-Wood
Get an introduction to Black musicians and visual artists who made the world more beautiful, challenged authority, and changed society.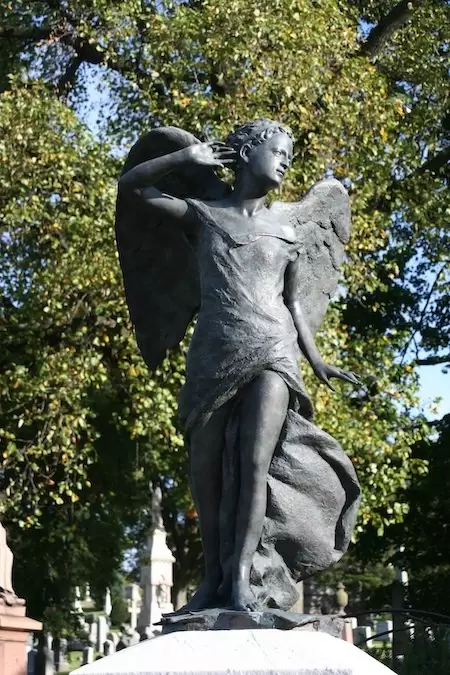 Program Rates
$100 for NYC public school groups; $120 for private/pod/outside NYC groups
Registration
To register for any program, click "book now." Programs MUST be booked and paid for online or by phone by credit card two weeks or more in advance. For the moment we are not accepting cash or check payments. If you need to pay by school purchase order please call us in advance of booking at 718-210-3060.
Education Staff and Contacts
Rachel Walman
Director of Education
718-210-3060
rwalman@green-wood.com
For the fastest reply, please email education@green-wood.com
Reschedule/Cancellation Policy
If you wish to reschedule your virtual program, please contact us via email at least two weeks prior to your program date. If a new program date/time can be agreed on within one week of your original program date, there will be no additional fee.
Reschedule requests made fewer than 48 hours before the start of your program will be treated as cancellations. We will not be able to process any refunds and new program bookings will be charged at full price.
If you wish to cancel your program and receive a full refund, please contact us at least two weeks prior to your program date. Cancellations made between 13 days and 48 hours prior to the program date/start time will be charged 50% of the program costs. We cannot refund programs that are cancelled fewer than 48 hours before the program date.