It was a long time—and a long way–coming. One hundred and fifty years and a trip around the world, to be precise.
Thomas Francis Meagher (1823-1867) led an extraordinary life. Born in County Waterford, Ireland, he put his life on the line to fight, under arms, for Irish independence (he was known as "Meagher of the Sword" for arguing for, and acting upon, his view that violence against the British was necessary). It was Meagher who helped introduce a new Irish flag, symbol of a Free Ireland. For his revolutionary efforts, he was arrested, convicted of sedition, and sentenced in 1848 to be hung, drawn, and quartered. Soon thereafter, Queen Victoria commuted his death sentence and he was exiled to a penal colony in Tasmania, off Australia. In 1852, he escaped to New York City and Brooklyn and became a leader of the Irish-American community. During America's Civil War, he led the 69th New York State Militia, then rose to the command of the Irish Brigade, leading it into battle during the Seven Days Campaign at Fair Oaks and Malvern Hill, and later at the Battles of  Antietam, Fredericksburg, and Chancellorsville.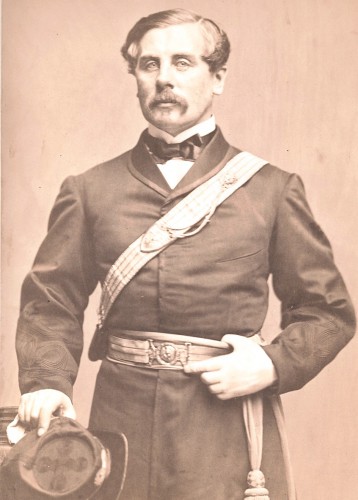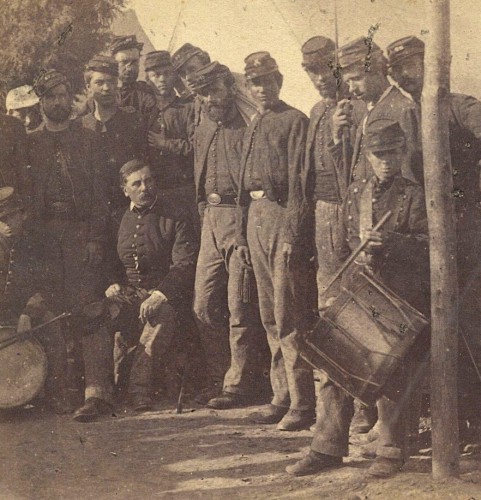 By 1867, Meagher was the acting governor of the Montana Territory. On July 1, 1867, while serving in that position , he disappeared under mysterious circumstances (murdered? kidnapped by vigilantes? fell off a steamer, drunk, into the Missouri River?)–never to be seen again.
In August of 2002, Green-Wood restored and rededicated New York City's Civil War Monument on its Battle Hill. It occurred to me, soon thereafter, that we at Green-Wood should tell the stories of our Civil War veterans interred here. So, that fall, volunteers launched our Civil War Project by searching the cemetery's grounds, looking for indications that a veteran was interred: inscriptions, special markers, etc. Much more research–done by hundreds of volunteers–followed. When we started this project, we thought we might find up to 500 veterans. Were we wrong! In the 15 years since we started, we have found 5,000! For each of these, a biography has been written and is posted on Green-Wood's website. Of these 5,000 veterans, we discovered, much to our amazement, that a remarkable 2,300 of them were in unmarked graves. For these individuals, we have applied to the Department of Veterans Affairs for a gravestone; Green-Wood staff have installed most of them already, and all will be installed free of charge.
One of my early discoveries, as I researched for our Civil War Project 15 years ago, was an obituary in the Brooklyn Daily Eagle for Elizabeth Townsend Meagher, reporting that she was interred at Green-Wood, upon her death in 1906, in her family's lot. Elizabeth Townsend was a member of the same Townsend family that owned the Townsend Iron Foundry near West Point. It was the Townsends who forged the iron chain that was stretched across the Hudson River during the Revolutionary War, preventing British war ships from passing. As reported in Elizabeth's obituary, she was the widow of Thomas Francis Meagher. A Protestant, she had converted to Catholicism in order to marry Meagher. During the Civil War, one of the regiments of the Irish Brigade was named in her honor: "Mrs. Meagher's Regiment." When, in July of 1867, her husband Thomas disappeared, she went to the Montana Territory and searched for days for his body; it was never found. She lamented to her dying day that he had no final resting place.
In 2008, we applied to the Department of Veterans Affairs for a cenotaph for Thomas Francis Meagher–because he had no grave. That granite marker was unveiled that same year, just feet from his widow's grave.
In the ensuing years, efforts were made to raise funds for a grand bronze sculpture of General Meagher to be placed near his widow's grave. But those efforts were to no avail until a year ago, when Peter McKay of the County Waterford Association contacted Green-Wood with a promise to make this dream a reality. It was Peter who hit a home run by selecting Michael Keropian, a fellow of the National Sculpture Society, to sculpt Thomas Francis Meagher's portrait. The County Waterford Association, under Peter's leadership, raised the money for the bronze; Green-Wood raised the money for the memorial's granite base.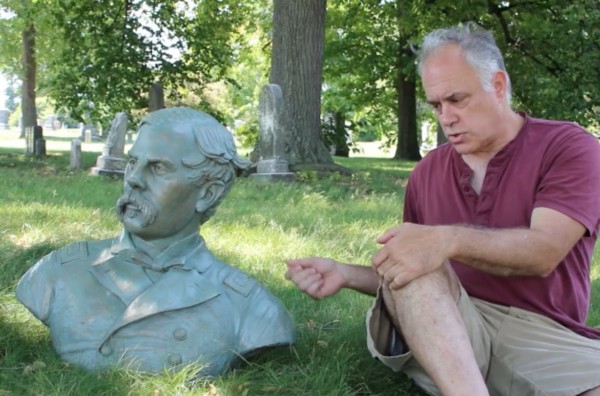 On Saturday, July 1, 2017, the County Waterford Association and The Green-Wood Historic Fund commemorated the 150th anniversary of the disappearance of Irish freedom fighter and Civil War Brigadier General Thomas Francis Meagher with the unveiling of a stunning new bronze at the gravesite of Meagher's widow, Elizabeth (Libby) Townsend Meager.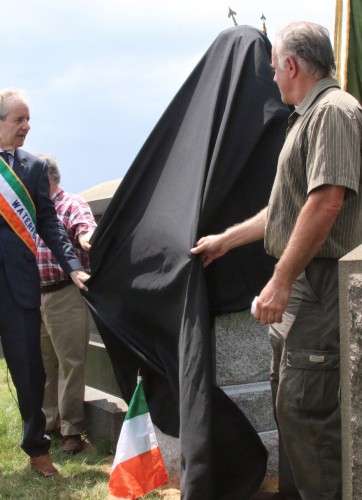 The commemoration ceremony featured remarks by Commander of the 69th Regiment, Lieutenant Colonel Don McKay; County Waterford Association President Peter Albert McKay; Green-Wood Cemetery President Richard J. Moylan, Green-Wood Historian Jeff Richman; sculptor Michael Keropian, and others.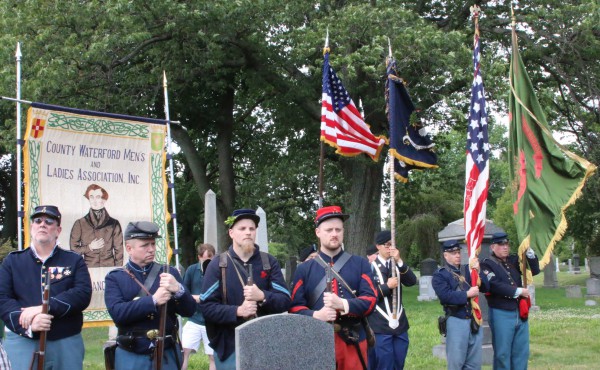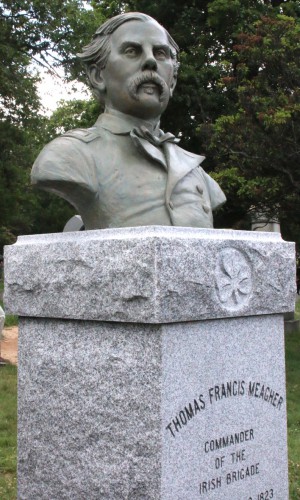 An enthusiastic crowd of approximately 200 people attended the unveiling, including a Meagher descendant, Maureen Roaldsen. The unveiling was followed by a reception in Green-Wood's Historic Chapel, sponsored by the County Waterford Association and The Green-Wood Historic Fund. After the reception, I led a sold out trolley tour, "The Eminent Irish," across Green-Wood's grounds.
The unveiling of the Meagher bronze, atop its granite base, is the culmination of a ten-year effort to raise the necessary funds to honor Thomas Francis Meagher. It is the culmination of his long journey–unveiled on the 150th anniversary of his mysterious disappearance.