I have been a collector all of my life. I started off collecting coins and stamps and baseball cards and more. In 1980, I started collecting sterescopic views–those side-by-side photographs glued to cardboard that, when placed in a viewer, fooled the eye and the brain into believing they were seeing a 3D scene. They were all the rage in the 1860s and 1870s–and made it possible for Victorians to travel the world while in the comfort of their parlors. Views and viewers were the home entertainment center of 150 years ago!
Well, as I collected stereoviews, mostly of New York City, I kept coming across views of some place called Green-Wood Cemetery. The photographs were interesting, there were hundreds and hundreds of different scenes, and I had long had a fondness for cemeteries, so I began to collect them. Then, in 1987, I saw an ad for a tour of Green-Wood, to be led by a professional photographer who would be sharing tips on shooting in a cemetery. One of my hobbies is photography–and that would work out just fine. But my primary aim was to wander this Green-Wood place and recognize scenes from those more-than-a-century-old stereoviews, such as this one: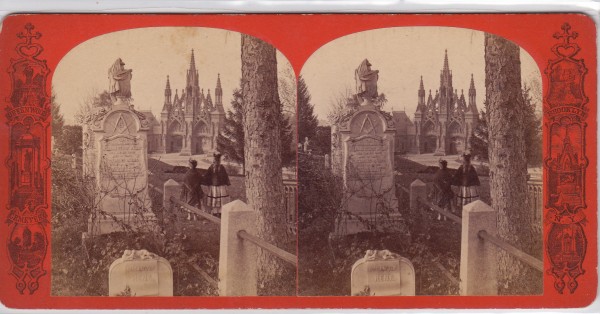 We went on the tour–and I was amazed by this Green-Wood Cemetery! What a place! My only problem was that I was so impressed that I didn't want to leave–I got locked in that night–and had to climb the fence to get out–I had tickets to a Mets game that night and just couldn't stay.
I went back to Green-Wood two days later to get a pass to take photographs–something that was necessary at the time, but is no longer required. I convinced the then-superintendent, Nick Vislocky, to issue that pass for me with "Photographs Allowed" typed on it. I still have it! By 1991, I was leading tours of Green-Wood. By 1998, Green-Wood was publishing my book about the cemetery and its permanent residents.
So it has been 24 years since I led my first tour of Green-Wood. I have led hundreds of tours over that time. I have written two self-guided walking tours of Green-Wood. I created Green-Wood's free app.
ABC News recently contacted us about recording a short tour of Green-Wood–live! It was to be part of their "Historic Haunts" series. I was only too happy to do it. It would allow viewers, like the Victorians, to tour Green-Wood from the comfort of their home.
In preliminary discussions with ABC News about this shoot, they told me that they were interested in a short walk of about 20 minutes, to be shot live with a reporter. It occurred to me that there were several areas at Green-Wood that would work well—but that the best would be a walk around Battle Hill. This area has long been a focal point at Green-Wood. It offers a variety of attractions packed into a small area: a spectacular view of New York's skyline and harbor, a view of the Statue of Liberty, great sculpture—New York City's Civil War Monument (dedicated in 1876), the bronze of Minerva (memorializing the Revolutionary War's largest battle, the Battle of Brooklyn) saluting her sister, the Statue of Liberty, in the distance), and scandal (the final resting place of Elizabeth Tilton, involved in an affair with her pastor, the very famous Reverend Henry Ward Beecher). Further, Battle Hill, as we have learned only recently, was the place of the greatest triumph for Patriot soldiers in the largest battle of the American Revolution–the Battle of Brooklyn (also known as the Battle of Long Island). It is also the highest natural point in Brooklyn. And interred just a few feet from Minerva is conductor, classical and Broadway composer Leonard Bernstein (who, with Jean Michel Basquiat, is the most-often visited permanent resident at Green-Wood). A short walk from there is one of the great Victorian poems anywhere—in this case a love poem to a Pug dog named Fannie.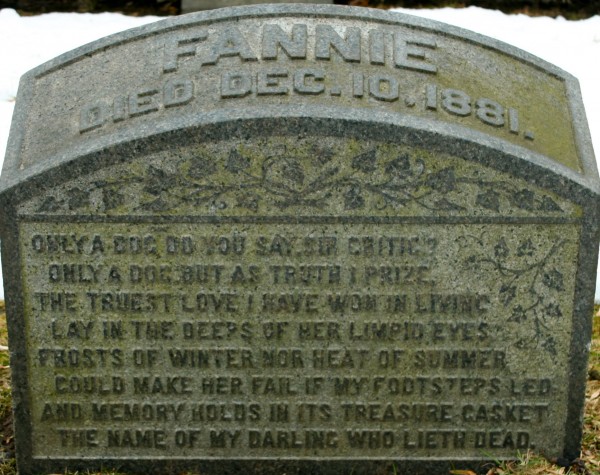 Then an allee of cherry trees. And finally a fascinating hillside mausoleum—the Durant family's—with three rarely-seen marble sculptures inside it by John Moffitt—and a great heavy granite door. Hopefully we could work into the piece the very final sound of that door closing.
It was a pleasure working with ABC News reporter Charlie James on this.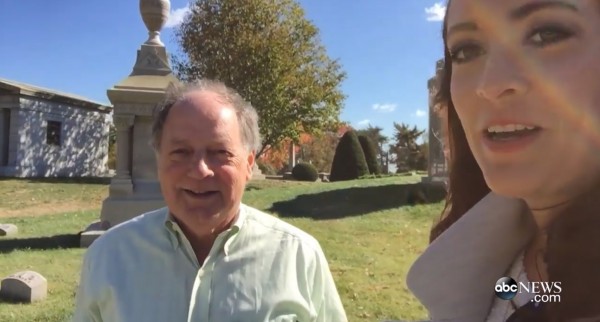 Here's the video. Enjoy!