Openhousenewyork, featuring free access to New York City's best architectural features, began in 2003. And Green-Wood has participated in it annually since then, with a great performance across the grounds of music and dance, "Angels and Accordions."
But this year, on Saturday, October 15, and Sunday, October 16, we have something very different and exciting planned for openhousenewyork.
We will open up some of Green-Wood's most interesting and elaborate tombs, many of which never before have been open to the public.
Each visitor will be given a map of the locations of the open tombs. You may walk out to the tombs: they will be grouped on each day, with the tombs closest to Green-Wood's main gates open on Saturday and those farther out open on Sunday. And, our trolley will circulate to each of the open tombs, providing easy access. On Saturday, The Catacombs, our Historic Chapel, and six family tombs will be open; tentatively Chauncey (many of you may remember it as the wonderfully-lit backdrop for the recent "Spoon River" theatrical performance), Durant (with three sculptures by John Moffitt and an amazing granite door), Van Ness-Parsons (a pyramid), Anderson (a Greek Revival tomb, dated 1864), Acea (see below for photographs), and Morgan. On Sunday, we plan to open The Catacombs, Historic Chapel, and Feltman, Mott (Dr. Valentine Mott was the greatest surgeon in the world in the 1850s), Whitney (one of the richest families in America), Bourne (where lies the president of Singer Sewing Machine, and which was designed by Ernest Flagg, a prominent architect), Garrison (a great Moorish Revival tomb), Niblo (on Crescent Water, with several pieces of sculpture), and Steinway (the pianomakers, and the largest tomb at Green-Wood, with room for 256 interments).
Hours are noon to 4:00 p.m. each day.
One of the tombs we plan to open is the elaborate one built by Charles Feltman, the inventor of the hot dog and owner of a chain of restaurants. It was Feltman who came up with the idea of putting a frankfurter in a bun, so that strollers along the Coney Island beach or boardwalk might eat as they walked. If you visit the Feltman Tomb, stand on its steps and look out at the irony in the distance: from the tomb of the inventor of the hot dog, the view is of Burger King, across Fort Hamilton Parkway in the distance.
Here's a coming attraction. This is the entrance to the Feltman Tomb, with the doors as they looked recenlty, and as they now look after being cleaned by our restoration team, in preparation for our Open "House" weekend. Nice work!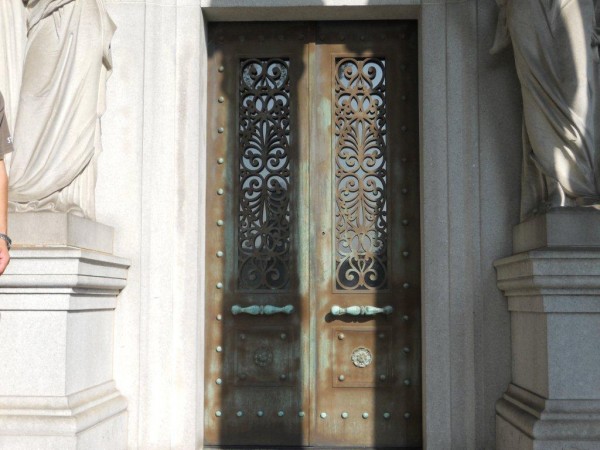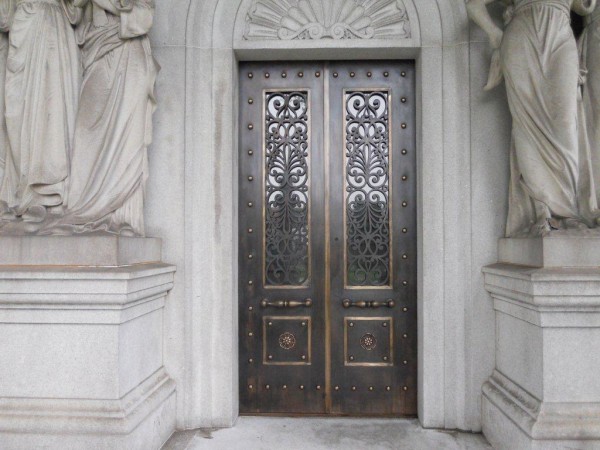 And these photographs give you an idea of the surprises that await you inside just one of these, the Acea Tomb: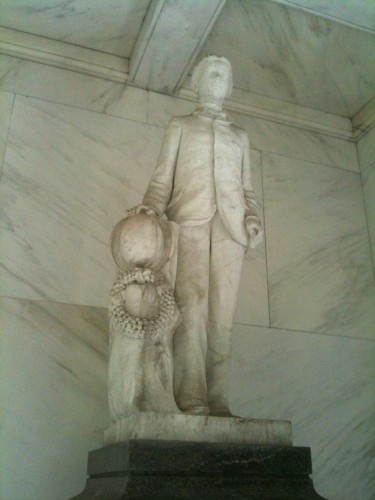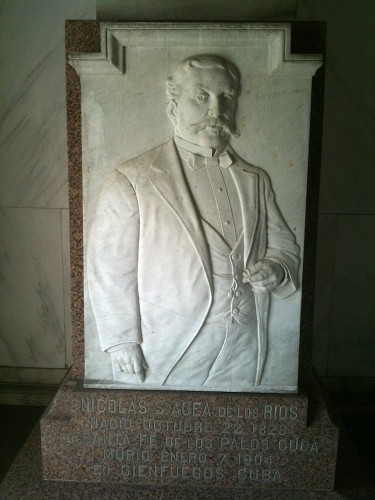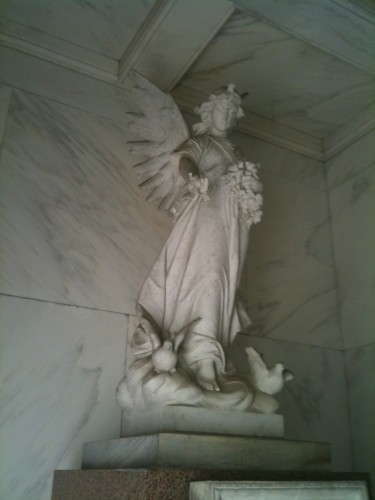 This is a real first for Green-Wood–and there is no guarantee it will ever happen again–don't miss it!
Please register here for this free event–so that we know how many people to expect and can cook accordingly. Actually, just kidding about the cooking part.
We look forward to seeing you.