April–a great month to be born. Mothers giving birth in April avoid being pregnant during the summer. Babies born in April get to loll outside, enjoying the warmth of spring and summer, with no clue that winter is on its way. And, did I mention, my birthday is in April?
Here are a few of Green-Wood's permanent residents, famous and infamous, who were born in April: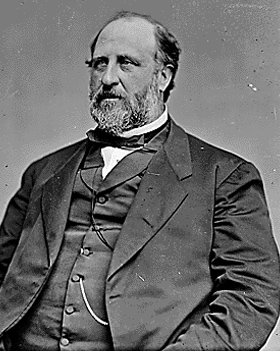 April 3, 1823: It has been estimated that during his reign of corruption in New York City, "Boss" Tweed and his political machine stole $200 million – or the equivalent today of about $3.5 billion.
In his numerous government positions, William M. Tweed operated untold schemes to pad his pockets with public money – perhaps none more emblematic than what is still known today as "The Tweed Courthouse." In 1858, the New York Legislature approved a sum "not to exceed $250,000" for the project. Tweed's dishonest and wildly inflated billing system cost the taxpayers $12 million and provided generous kickbacks for "The Tiger of Tammany" and his cronies.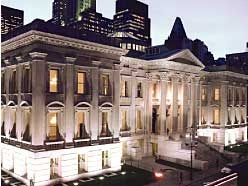 After a campaign led by The New York Times and cartoonist Thomas Nast of Harper's Weekly, Tweed was arrested, fled to Spain and was recaptured by Spanish officials who recognized him from a Nast cartoon. Tweed died in New York City in 1878 after spending some time in the Ludlow Street Jail. The Tweed Courthouse, on Chambers Street in lower Manhattan, is a designated New York City landmark—a landmark to civic corruption.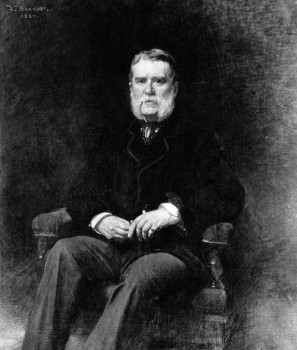 April 8, 1820: The founding president of The Metropolitan Museum of Art, John Taylor Johnston was an avid art collector who donated his private pieces to the Museum he helped create in 1870. A practicing attorney, he served as president of the Central New Jersey Railroad from 1848 to 1877. He is also credited with building the first marble mansion in New York City – his private home on Fifth Avenue, just north of Washington Square. He died in 1893.
April 12, 1857: The son of a typewriter ribbon manufacturer, John Underwood was an entrepreneur whose business, The Underwood Typewriter Co., is credited with inventing the modern typewriter. At the height of its success, the company – the world's largest typewriter manufacturer – was constructing one machine a minute in its plant in Hartford, Connecticut. He died in 1937.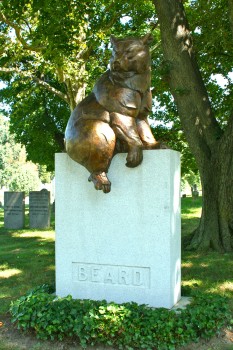 April 13, 1825: Well known for his genre pictures, architectural studies and allegorical works, American artist William Holbrook Beard was perhaps best known for his satiric anthropomorphic paintings of animals – including his most popular work, the "Bulls and Bears in the Market" completed in 1879 and now on display at the New-York Historical Society. Beard died in 1900, yet remained in an unmarked Green-Wood grave until 2002 when cemetery historian Jeffrey Richman made the discovery.
Today the monument is graced with a five-foot tall bronze bear, crafted and donated by sculptor Dan Ostermiller, atop a four-foot tall granite base. It was unveiled in October 2002 – 102 years after Beard's death.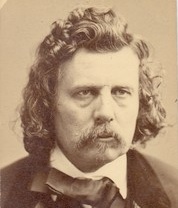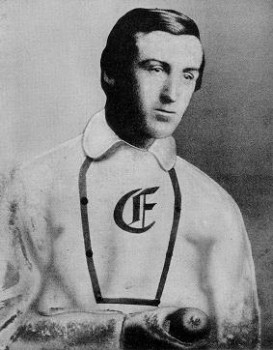 April 15, 1841: James Creighton is considered baseball's first superstar and "martyr." A local boy, he made his debut with the Brooklyn Niagaras in 1858 as a hard-throwing pitcher known for his "wrist throw" — a low underhand delivery executed with the snap of his wrist , considered by some to be illegal and unsportsmanlike at a time when baseball was in its infancy.
After a bidding war for his services, Creighton played with the Brooklyn Excelsiors and led the team on baseball's first barnstorming tour across upstate New York. Also renowned for his hard-swinging style of play, during a game in 1862, Creighton hit a home run, but collapsed as he crossed home plate, having swung so hard that he ruptured his spleen. He died of his injury four days later at the age of 21 at his Brooklyn Heights home.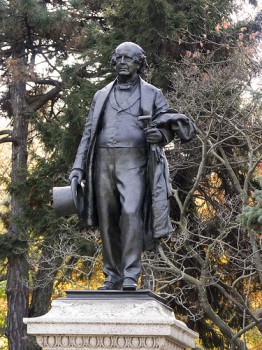 April 25, 1808: Born in Peterboro, New York, James S.T. Stranahan was considered the "Father of Prospect Park" and played a key role in virtually every great civic project in Brooklyn during the second half of the 19th century, including Ocean and Eastern Parkways and the Atlantic Docks. He was president of the Union Ferry Company, trustee of the Brooklyn Bridge, headed the Brooklyn's Parks Commission, and led the movement to unite the cities of New York and Brooklyn. A statue of Stranahan, paid for by grateful citizens, was erected at Prospect Park's north entrance before he died, where it still stands.
After his death in 1898, his funeral cortege was the first ever permitted to pass through Prospect Park.
April 27, 1791: Though Samuel F.B. Morse is best known for inventing the telegraph and Morse Code, he was also a leading portraitist and a pioneering photographer.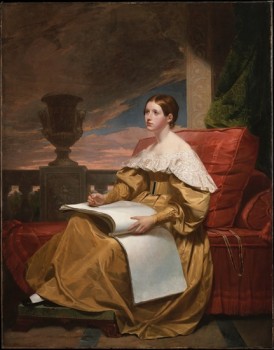 He became the first president of the newly-created National Academy of Design in 1825 and served in that office for twenty years. Just after he completed painting his masterpiece, The Muse – Susan Walker Morse, depicting his daughter in an idealized Neoclassical setting, Morse learned that he had lost the commission to paint in the Capitol Rotunda in Washington, D.C.. Thereafter, he lost all enthusiasm for painting and increased his devotion to perfecting the telegraph. He died in 1872.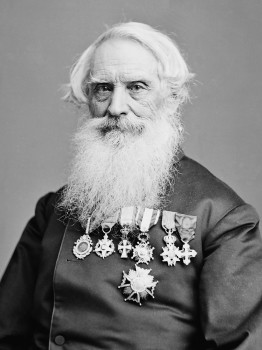 Thanks to Colleen Roche and Kim Esp for their work on this.