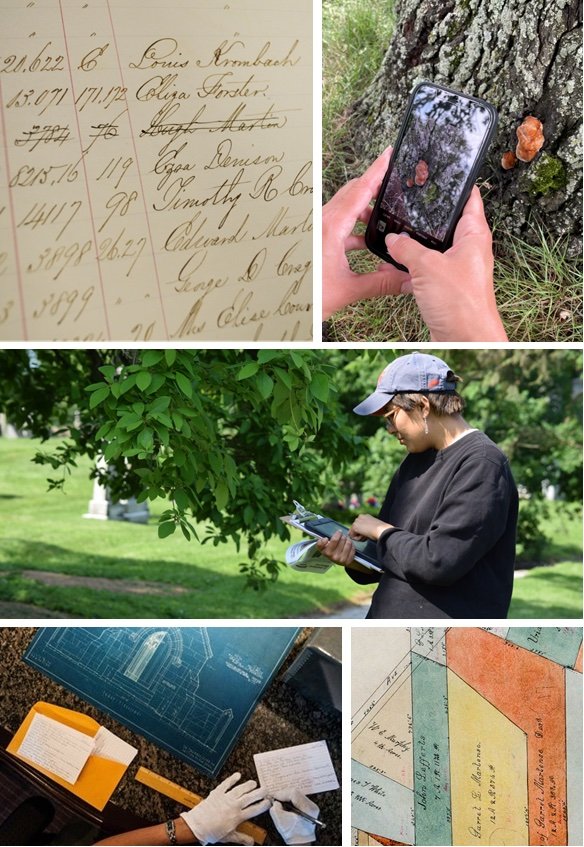 Historic cemeteries are one of the country's most important, yet overlooked, resources for research and experimentation in science, urban studies, history of public health, and more. They host large-scale urban green spaces, diverse flora and fauna, and extensive institutional records. Further, the grave markers and historic monuments across their grounds are primary sources themselves. Cemeteries that date back to the Rural Cemetery Movement of the nineteenth century typically have thousands of trees, shrubs, and other plants across their grounds. Given their age, proximity to urban development, and resources, these cemeteries present an extraordinary opportunity for research, not just into the past, but to explore the dynamics of our present.
The question is, are these resources accessible?
At Green-Wood, we recognize the research potential of these extensive assets. We're firmly committed to making them available to researchers and students. Over the past five years, we have worked hard to catalog our collections: the institutional archives, the historical collections of art and artifacts, and the living collection of trees and plants that comprise our arboretum (click here for more info.)
Examples of current projects include research into climate-adaptive urban grassland management and lawn invertebrate damage in partnership with Cornell University's College of Agriculture and Life Sciences, a wood-boring insect survey with the United States Forest Service, and a fungi diversity survey.
Other potential avenues of inquiry include urban ecology, landscape design, climatology, US history, art history, history of public health, urban studies, women's studies, immigrant studies, sociology, and anthropology.
We welcome visiting researchers to explore any of Green-Wood's collections and urge you to be in touch by contacting collections@green-wood.com. And click here to learn about opportunities for funded research.