Inventors Club: Elias Howe
August 16, 2015, 12:00pm

–

3:00pm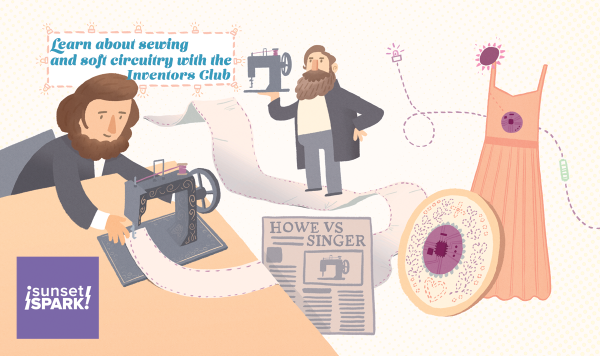 Clic para español.
Learn about Elias Howe, inventor of the sewing machine! You'll learn about Howe and his rival, Isaac Singer, by exploring historic newspaper clippings and ads. Then a hands-on workshop will teach you how to bring sewing into the 21st century, with soft circuitry technology that creates light-up clothing. You'll even get a chance to reprogram the circuitry to light up in different ways!
Green-Wood Inventors Club
This summer, unite the past and the future at Green-Wood! The Green-Wood Inventors Club combines the great outdoors, history, and modern technology to create fun workshops for families. Learn about famous scientists, designers, and inventors by exploring their life and work. Hands on projects will connect these fascinating personalities to our modern times. The Inventors Club will be stationed in Green-Wood's Historic Chapel, and at the Green-Wood monument of the personality we're exploring. Visit both locations to learn about history and create something cool, too. Workshops are free and run from noon to 3:00 p.m.
Green-Wood Inventors Club is presented with Sunset Spark, an organization offering free, high-quality classes for the immigrant community of Sunset Park. Sunset Spark involves kids, adults and families in a wide variety of science and engineering subjects like neuroscience, software engineering, and physical computing.
¡Aprende sobre Elias Howe, el inventor de la maquina de cocer! Aprenderás sobre Howe y su rival, Isaac Singer, examinando recortes de periódico históricos y anuncios. Después un taller practico te enseñara como traer la costura al siglo 21, con tecnología de corto circuito que crea ropa que se alumbra. Hasta tendrás oportunidad de reprogramar el circuito para que alumbre de diferente maneras.
¡Este verano, unete al pasado y presente en Green-Wood! El Club de Inventores Green-Wood combina historia, y tecnología moderna al aire libre para crear talleres divertidos para familias. Aprende sobre científicos, diseñadores, e inventores famosos al explorar sus vidas y trabajos. Talleres prácticos conectaran estas fascinantes personalidades a nuestros tiempos modernos. El Club de Inventores se reunirá en la Capilla Histórica de Green-Wood, y en el monumento de la tumba de la persona que estamos investigando. Visita ambos lugares y aprende sobre la historia e inventa algo genial también. Los talleres son gratis y se llevan acabo de 12 del medio día hasta las 3 de la tarde.
El Club de Inventores Green-Wood es presentado en conjunto con Sunset Sparks, una organización que ofrece clases gratis y de alta calidad para la comunidad inmigrante de Sunset Park. Sunset Spark involucra a los niños, adultos y familias en una variedad amplia de materias científicas y de ingeniería tales como neurociencia, ingeniería de programación informática e computación física.