2 p.m. Ferdinand Ward: 19th-Century Swindler Talk & Tour
September 30, 2012, 2:00pm

–

4:00pm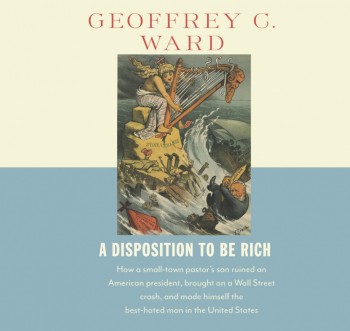 The title of Geoffrey Ward's book says it all: A Disposition to Be Rich: How a Small-Town Pastor's Son Ruined an American President, Brought on a Wall Street Crash, and Made Himself the Best-Hated Man in the United States.
In the era of Madoff and Ponzi, America has all but forgotten about the original king of the swindle, Ferdinand Ward. Unmatched in ambition, Ward defrauded businessmen, celebrities, his own late wife and even President Ulysses S. Grant. Join Geoffrey Ward, acclaimed historian and great-grandson of Ferdinand, to delve into the sordid details of this sweet-talking con man. After the talk, enjoy a trolley tour of scandalous Green-Wood residents, including Ferdinand Ward himself.
This event has two parts, with separate tickets for each part:
The free book talk/presentation in the historic Green-Wood chapel.

A guided trolley tour immediately following the talk. Tickets are $15 for members of the Green-Wood Historic Fund and $20 for non-members.
Seating is limited for both the talk and the trolley tour, and reservations are recommended.
To purchase tickets, call 718-210-3080 or order online using the Ticket Information box below — click to Order Now or Enter Promotional Code (Member ID#) and you will be redirected to our Eventbrite ordering page.
Please include both free talk tickets and trolley tour tickets in your order if you would like to attend both parts of the event.
If you are using a credit card linked to a non-U.S. address, or if you've typed in a billing address that does not match that of your credit card, you may see an error message when ordering. If so, please call us at 718-210-3080 from Mon-Fri 8am-4pm Eastern Standard Time or email us at info@greenwoodcemetery.org and we will help you complete your order. Thank you.
Not a Member?
Get a free ticket with a membership at left and purchase additional Member Discount Tickets if desired. Click here for all of our membership levels and information.
Already a Member?
Click the "Enter promotional code here (G-W Members: Use your Member ID)" link in the bottom right corner of the ticket box and enter your ID number to apply your ticket discount. Please note that the Senior, Individual and Student membership levels are limited to only one Member Ticket per event (for additional tickets, please purchase at the regular price).
Questions?
Don't know your Member ID number? Not sure which ticket or membership type to order? Call 718-210-3080 or email contactus@green-wood.com with any questions.